Welcome!
All are welcome here, Christians and non-Christians. Since this is a place to seek and share inspiration, I respectfully ask that any postings or blog replies remain free of vulgar, profane, or hurtful commentary.
All topics regarding religion, theology, philosophy, spirituality, and personal experience are encouraged. As is healthy debate about these topics.
People come to faith in Christ through the faithful teaching of God's Word and the convicting power of the Holy Spirit. It is my hope that the teaching of God's Word will be sought and shared by those who visit here. I am sure that once you begin, the Holy Spirit will continue to move you toward your own personal relationship with Jesus, and that you will share your experiences of grace and divinity with all of us.
Thank you for visiting and I pray that you will become part of our community.
Note: Apparently there has been some question as to how to use this website. Click on the "My Blog" link above, then read and comment. To view other's responses, and continue on-going dialogue, click on "View Comments" at the bottom of each particular blog topic.
In the name of Jesus, our Savior,
Reverend Ron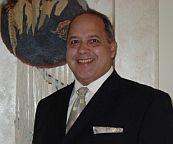 December 15, 2008
Thank you to everyone who has visited this site. You are all wonderful people! Please visit the Prayer Page and participate in prayer for our brothers and sisters.